At Green Resort, we remember a time when the purity and simplicity of everyday life inspired our soul. Our resort at Punakha valley pays homage to these simple yet unforgettable moments.
Welcome to the Green Experience
RKPO GREEN RESORT

RKPO Green Resort sits in the heart of the verdant and lush Punakha Valley. Flanked by thick pine forests, it overlooks the Punakha Valley and hundreds of paddy fields that stair-step down to the valley floor. It is surrounded by plentiful walking and trekking trails. From RKPO Resort, it is just a five minutes trek down to the mountain to the magnificent Chimmi Lhakhang; the temple of the divine mad man(dharma yogi), which houses one of the amazing statues of the divine mad man in the country.
SLEEP
Curl up and enjoy your favorite story in the privacy of your own window, or simply watch the world go by from your suite. At RKPO we ensure that our rooms provide the ideal sleeping environment. Your room is your playhouse, your private den, your sanctuary, a lookout from the rooftop of the world onto one of nature's most beautiful treasures.

Read More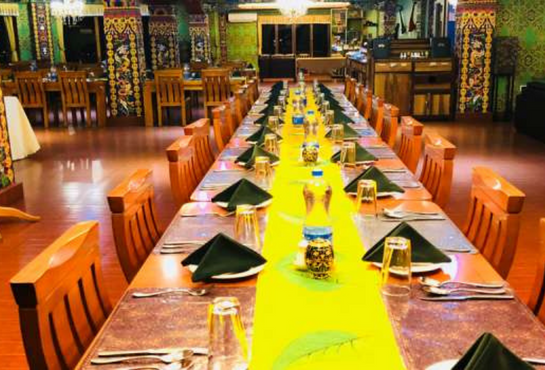 RESTAURANT

At RKPO Green Resort we celebrate the simple things in life. Nourishing, nurturing food – unashamedly uncomplicated. We offer our guests a selected menu of western classics, traditional asian favourites, and dishes that offer a taste of Bhutan.
Where possible, our menu is created using seasonal and organic ingredients. From elegant dining in our restaurant, to casual meals, coffee, and snacks, our menus are developed with locally sourced and fresh ingredients.

Read More
Bar and Open Sky Bar
At RKPO Green Resort we celebrate simple things in life. Quality local and international beverages with beautiful open sky with bone fire and spicy grills.
SPA

Revive your senses and restore your spirit at our spa. The spa offers various treatments and therapies using our very own hand-blended essential oils. Relax in the steam room and suna and treat yourself to deserving few hours at the spa and leave fully refreshed and rejuvenated.


Read More
RKPO Green Resort Gangtey
The RKPO Green Resort is conveniently located between two dzongkhags (districts) namely, Punakha and Wangduephodrang, The resort provides a beautiful view of Gangtey Gonpa or Gangtey Monastery which is an important monastery of Nyingmapa school of Buddhism, the main seat of the Pema Lingpa tradition.