Traditional
Khuru is a Traditional Dart Game commonly enjoyed by many in Bhutan.  The distance between the targets is about 30 meters and the target is almost 11 by 5 inches.
More than just the game is the spirit of the game which makes it lively. Teams sing and dance on each strike making the game even more interesting. Cheering and jeering is a part of the game.
SPA
Revive your senses and restore your spirit at Green Resort Spa. The spa offers various treatments and therapies using our very own hand-blended essential oils. Relax in the steam room and suna and treat yourself to a deserving few hours at the spa and leave fully refreshed and rejuvenated.
 "To commence your journey within our spa, each treatment begins with an offering of Herbal tea, healing touches to trigger points on your body to effectively relieve tension and ease you into relaxation and healing."
Biking
Located in idyllic countryside of Punakha about 7 KM from Khuru town, the place is well known for the birding and biking. One can enjoy the magnificent view of the Khamsum Yulley Namgyel chorten which is built by the queen mother and is dedicated to the king and well-being of all Bhutanese
Handicraft
important aspect of Bhutanese art is that it is always anonymous. If a work of art bears a name, it is usually the name of the person who commissioned it, not the artist's, because the importance of the craft lies in the craft itself, not in those who produce it. Art speaks for itself, the same as each representation of belief and value. Thus, these objects decorate every home, temple, and street. The ornaments are used every day as simple, yet beautiful tools. Colors permeate every aspect of the paintings, woodwork, sculptures, and embroideries that depict deities, sacred animals and other relevant imagery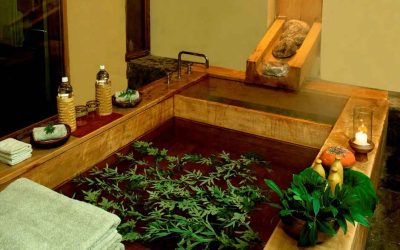 Hot Stone bath
The process of a traditional Bhutanese hot stone bath is unique. It uses Menchu (medicinal water) which is nothing but fresh river water mixed with Artemisia leaves. The water is heated using river stones that are roasted on fire till they are glowing red. The temperature of the water can be increased by adding more heated stones into a wooden chamber via a chute. This chamber is connected to the main tub (also made of wood) which contains the water. The holes in the chamber allow the heat to be infused into the bath (so there is no danger of being burned by the hot stones) and the stones are said to release key minerals into the water which are believed to have medicinal benefits. One can soak in the water for about an hour or two after a tiring day while sipping a hot beverage. This may also be followed by a salt scrub to remove dead skin cells and an oil massage to relieve tired muscles.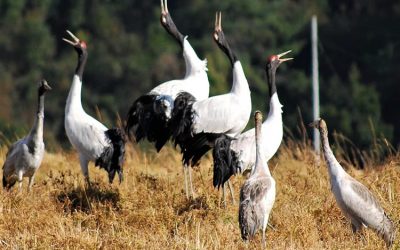 Black-Necked Crane festival
celebrated at the courtyard of Gangtey Goenpa in Phobjikha valley. The festival is an occasion for the locals to rejoice and celebrate the arrival of this endangered and majestic bird which becomes an inseparable part in their daily lives during the winter months. The annual blacknecked crane festival is organized to generate awareness and understanding on the importance of conserving the endangered Black-Necked Cranes